Dubai, Burj Khalifa
When you finish shopping for all those things you planned to buy – and those you didn't, and when glittering stores and adds, marble and glass start to make you blink faster than usual, take a deep breath of that air-conditioned air, arm yourself with patience and go outside – to visit Dubai! Emiratis might not agree, since the official tourist tour around the city insists on visiting shopping centers and "the biggest", "the tallest", "the most luxurious" buildings and towers.
Shell shaped metro station
The United Arab Emirates is a young country, it exists a bit over 40 years and everything is relatively new. At least from the point of view of a European. There was nothing there five decades ago, at the same spot where the city has sprung up. Endless sand and dunes only. Few people, with a totally different way of life, before oil and all that wealth.
They were Arab Muslims who were mostly engaged in fishing and trading in sea pearls. Dubai rose up as the actual settlement in the 19th century when Baniyas tribe members moved from Abu Dhabi. Their descendants still rule the city. Some of that tradition can be seen today, even though it is totally out shadowed by the new Dubai which is "the tallest" and "the most luxurious".
The city is well covered when it comes to public transportation. There are a lot of bus lines, the modern subway, and taxi services are not expensive. Even if you go from one part of the city to the opposite one, the taxi fee would not exceed 80 dirhams (about 15 euros), while a subway ticket would cost a bit more than 1,5 euros. Taxi can be found on every corner and you can choose whether you prefer that "pink" one, driven only by women and for women, or a "white car" with no obvious taxi signs. Metro tickets can be bought and recharged at every station.
There are two metro lines which cover almost the entire city, they also go to the airport. Still, if you want to go to the beach, you would have to take a cab from the metro station, since even a 15-minute walk is too long in August.
The famous metro has been opened on September 9, 2009, at 9:09 precisely. It has been designed to represent that pearl trading tradition. The line mostly goes above the ground. Stations are shaped like seashells and decorated with four elements' symbols (water, air, earth, and fire), which take turns from one train stop to another.
Burj al Arab
Still, if you are in Dubai for the first time and it's not that easy to choose from all those "places to visit in Dubai" listed in travel guide books, the best way to go is by the sightseeing bus. It's an open bus, it goes in two lines, round trips last for four or five hours, but you can always hop on or off.
A one-day ticket is 50 euros, and with it you get headphones and a guide recorded in 10 languages, unlimited bottles of water and entrance tickets for some museums. The two-day tour is 10 euros more.
Well, I have decided to go around the city the first day and to hop off a couple of times the next.
The bus will take you by the Burj al Arab Hotel which was one of the most luxurious at the time it was built, with its 7 stars, the helicopter that brings guests from the airport, restaurants within a huge aquarium, etc. Then you will pass by the World Trade Center building, erected in 1979 and officially opened by the English Queen.
"Everybody was surprised by the building in the middle of nowhere back then", the voice says from the headphones, "but soon a lot of new constructions were built all around business centers and hotels".
The bus tour employees (and every one of them from Asia, mostly from the Philippines) will recommend the night tour, along with light performances in front of the Wafi or the Singing Fountain at the Dubai Mall. The later shoots streams of water 20 meters high and "moves" along with the music. It attracts a lot of tourists and it is lit few times a day at dusk.
The tallest tower, of course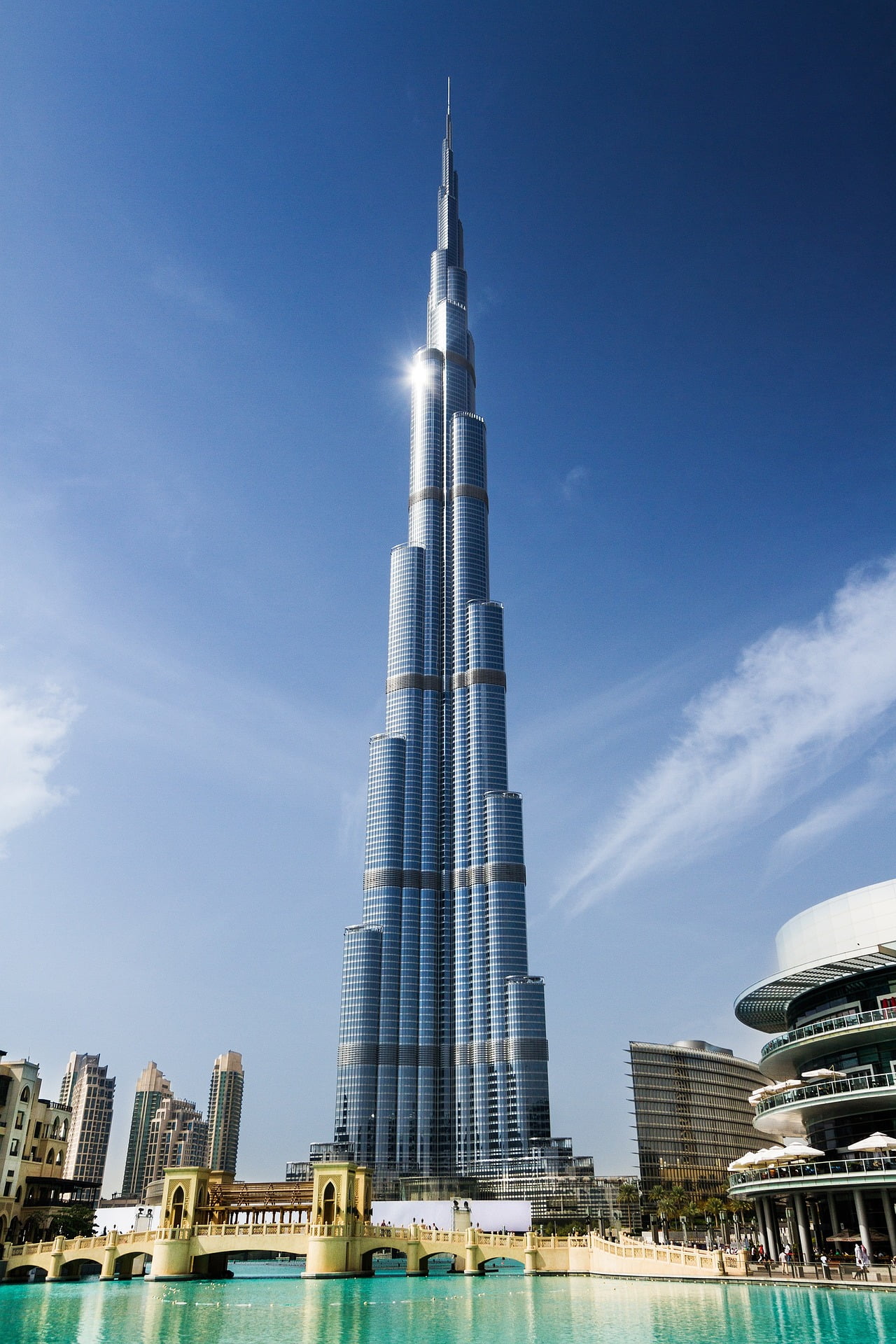 When the bus heads from Dubai Mall towards Deira district, expect to twist your neck trying to see the city landmark.
Next to Dubai Mall, there is the famous Burj Khalifa, the world's tallest tower (of course!).
The tower was finished in 2010 and it reaches more than 828 meters. The highest restaurant in the world is on its 122nd floor. It's possible to go up by its fast elevators to the 124th floor where you will find a large Observation Deck with 360 degrees view over the whole city. It costs 20 euros. There is also a prestigious Armani Hotel inside the tower, which was created by a famous designer.
Needless to say that Burj Khalifa cannot be squeezed into a camera lens or a single photo. It's better to wait until the bus goes a bit further away.
Soon, the voice from your headphones will let you know that "now, you are passing by Emirates Towers", then approaching this building "which was erected to resemble Chrysler building in New York", or that one – "constructed after the building of the famous London shopping center" etc.
Then you go by Wafi Mall again with numerous small sphinx replicas standing outside and you cannot help but think: "It surely is like Las Vegas. And US Nevada was once 'just another dry desert', wasn't it?"
Next: ARABIC SWEETS, LOST IN TRANSLATION (7)

The full Dubai SERIES